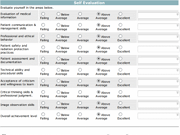 2018 is a thirteenth year of our work on a project to automate the educational process in American universities and colleges, leading education in medical professions, is celebrating its 13th anniversary. The Trajecsys Report System is being developed for Trajecsys (USA), it features an online clinical management and tracking system for students of health-related programs.
Internet-Frigate done a lot of work in 2017 to improve user interface and navigation system. The product became more powerful and multifunctional, it required a change in the approach to building interfaces. There was an upgrade, which should lead to a more simple and effective use of the basic functions of the system by all users.
Currently, Internet-Frigate continues to work on the development of new functions and technical support of the system. A dedicated team of developers works daily on the project, making the practical experience of using the system even more convenient, including working with mobile devices.
Since the launch of the system, Trajecsys has become the leading provider of solutions in the US for conducting health education. Currently, the system is used in more than 1000 educational programs throughout the country. The system provides reports with several filtering parameters, tracking hours of practice and managing estimates in a single online system. The flexibility of the system makes it possible to use it for recording on dozens of different courses on health care and patient care, including such diverse program specialties as dosimetry, radiation therapy, patient care, radiography, sonography, medical care and many others.