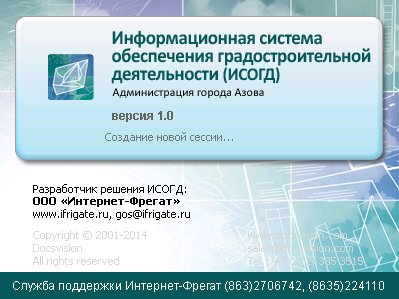 The Internet-Fregat company concluded the new municipal contract with Administration of Azov of the Rostov region under which executed delivery and introduction of Information system of ensuring town-planning activity of municipality "Farvater-ISOGD".
This system will allow the staff of Administration to operate effectively the territory of Azov, to unite and systematize town-planning data, and also will allow to reduce significantly terms and to increase quality of providing municipal services.
It is important to note that the department of architecture is connected to the System of Interdepartmental Electronic Interaction (SIEI) that allows to fulfill requirements of the Federal law No. 210-FZ when providing the state services and the presidential decree 601 "About the main directions of improvement of system of public administration".
Our company plans to assist further actively to development of automation in municipal local government bodies that will allow to provide a possibility of improvement of quality of the services provided to the population.