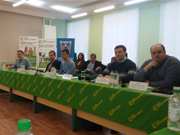 On January 28 Sergey Homyakov took part in enlarged meeting of Public council at the ministry of information technologies and communication of the Rostov region.
The meeting, the first this year, took place in expanded structure. Besides permanent members of Council, at a meeting also there were representatives of youth IT of community and educational institutions where prepare future IT specialists and regional IT business.
Participants of a meeting discussed the main vectors of work in 2016. The minister Herman Lopatkin informed on plans of work of department for the current year of members of public council.
In total works this year it is necessary much. The public council together with IT community intends to develop regional IT branch further.