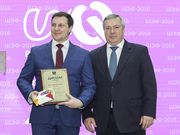 November 23 in Rostov-on-Don the results of the contest "Best Innovation of the Don" were announced and winners were produced awards.
The solemn awarding ceremony was held under the curtain of the Russian school Economic Forum, where Sergey Khomyakov, director of the company received the diploma of the winner of the competition out of the hands of Governor of the Rostov Region Vasily Golubev, and also he participated as a jury member of the School Olympiad, which was held at the forum.
The contest "the Don Best Innovation" was organized by the Government of the region and was aimed at identifying those businesses that have achieved the greatest success in innovation.