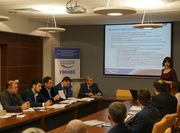 The final conference of the competition program "UMNIK" was held on 10 November 2016. It was organized by the Mission Fund of assistance to innovation in the Rostov region and the Government of the Rostov region.
The competition was attended by 64 youth innovation projects: 16 projects were presented in the areas of "Information Technology" and "New devices and hardware systems" after pre-selection stages.
Regional experts evaluated the finalists. In IT-sections of the jury included representatives of the Public Council of Ministry of Information Technology and Communications of Rostov region, successful managers of IT companies, including director of "Internet-Frigate" Sergey Khomyakov. He was chairman of the directions. The members of the expert jury selected the projects. The Fund to promote innovation will fund a total amount of 500 thousand rubles of the realization of the projects.