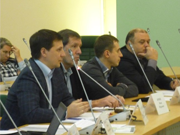 Last Tuesday Sergey Homyakov, the director of the company "Internet Frigate", took part in expanded meeting of members of council of IT designers of the Don region under the chairmanship of the minister of information technologies and communication of area of Herman Lopatkin.
Event was held in Engineering and technological academy of the Southern federal university (Taganrog) on which also there were experts, members of IT community of the region at the sphere of business and education.
Participants discussed tendencies of development of IT branch. It was paid to requirements to modern graduates much attention. According to participants of a meeting, one of key problems in this question insufficient participation of business in the course of training of specialists is.
Besides, participants of a meeting for creation of an IT cluster on Don noted need of association of efforts for the cities leaders of IT of the sphere of the Don region. So, in Rostov-on-Don, Taganrog and Novocherkassk there were professional centers which are actively developing information technologies in the south of Russia, but development of branch requires further development of partnership.
Already on end of council in a festive atmosphere the companies of Taganrog and Rostov signed the first agreement on strategic partnership. It will give the chance to embody more large-scale projects.